Amore C1: Palazzo on 5 Acres with Sea Views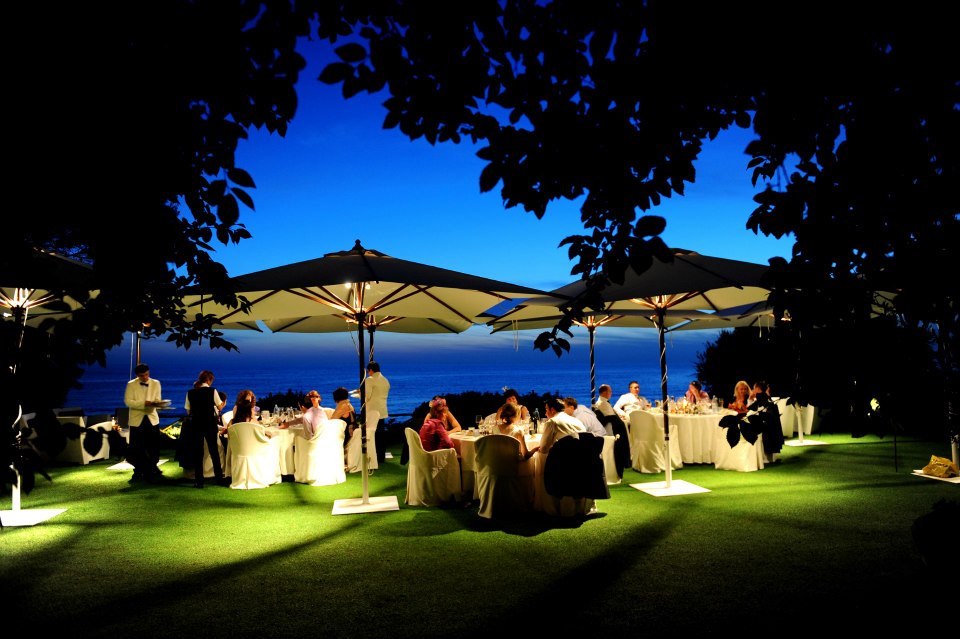 Venue Location:
This 17th century Palazzo has been converted into beautiful individual suites and apartments but maintains the elegant and harmonious architecture of the past. It is a paradise location for weddings and honeymoons with 5 acres of secluded park and gardens. It is home to a magnificent freshwater swimming pool and has private access to a golden sandy beach.
This stunning seafront Palazzo is the perfect place for a wedding or other special event.  Nothing can equal the ambience and glorious views from the Palazzo. On the clearest days the islands of Capri and Ischia seem to shimmer on the horizon, floating on an azure sea.  In the evening, after the sun has lazily set, the star filled sky is a perfect canopy for the Belvedere restaurant. Capri's twinkling lights flicker on the horizon as the waves lap on the shore below.
Wedding Reception & Banquet:
The entire Palazzo can be reserved with sufficient notice or, if you are planning a smaller event, certain areas of the Palazzo and the gardens can be set aside for private use. Wedding receptions are currently held in a Marquee Terrace or Palm terraces illuminated by candlelight evoking an atmosphere of romance and distant eras.  The Palazzo boasts a marquee for events from 40 pax up to 250 pax and a smaller intimate Palm terrace for wedding groups & events up to 40 pax.
Wedding Ceremony:
In this location we have 3 stunning Catholic Churches and a Torre and Castello for Civil Ceremonies outdoors. You can also marry on site this venue and other locations in both civil and symbolic ceremonies. Romantic civil ceremonies can be celebrated in the outdoors in the flower-filled courtyard or in the gardens. A beach wedding or a service on the islet of Licosa with its lighthouse, are possible alternatives for a unique celebration.
Music permission:
On request Music is permitted until 2am in the Private Party Location and bar service until 2.30am. Event must conclude by 3am.
Accommodation:
The Palazzo boosts a variety of rooms and suites accommodating 90 guests.
Open:
April to October