Amore S7: 5 Star Luxury Hotel in Central Sorrento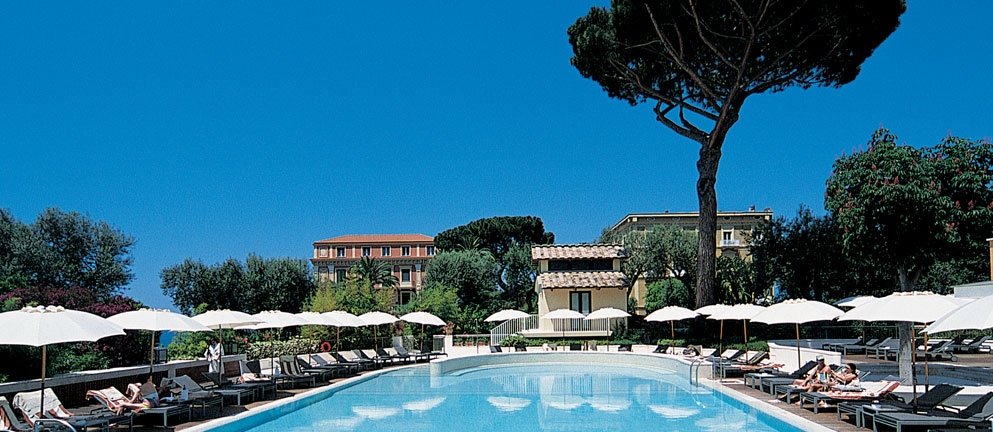 Venue Location
This venue is located in Centre of Sorrento, in the most panoramic and exclusive area of town.
Venue description
The Hotel is a five star Luxury hotel with aristocratic charm and opulence overlooking the Gulf of Naples and the Vesuvius. This hotel dates back to 1834 and has been owned and run by the Fiorentino family, one of the few founding hotelier families remaining in Italy today. The long history of this hotel is reflected in the unique fin-de-siècle style of the building, featuring original antique furniture and decorations. Many celebrities and discerning travelers (Richard Wagner, Enrico Caruso, Marilyn Monroe, Sofia Loren, and others) lodged at this hotel. An enchanting garden with olive trees and lemon orchard contribute to make this place a unique venue.
 Wedding Ceremonies
We can host Symbolic weddings on the grounds of the hotel.
If you require a civil ceremony we have the Cloisters of St. Francis, only a few minuteswalk from the Hotel, shops and restaurants
Wedding Banquets
Exclusive wedding parties for small groups (from 30 people) or large size wedding events up to 200 people. Halls with decorated ceilings, intimate rooms with sea view, or terraces overlooking the Bay of Naples are available.
Cuisine
Haute Cuisine with emphasis on fresh food in season.
Music entertainment
Dancing and cake cutting can be organized by the pool (music allowed until midnight) with a very romantic atmosphere.
 Accommodation:
This luxury hotel has 105 rooms with all modern comforts. 24 hour service, panoramic bar, swimming pool, private beach.
Open:
All year round