Amore T2: Medieval Fortress & Castello in Rapolano Terme, Near Sienna, Tuscany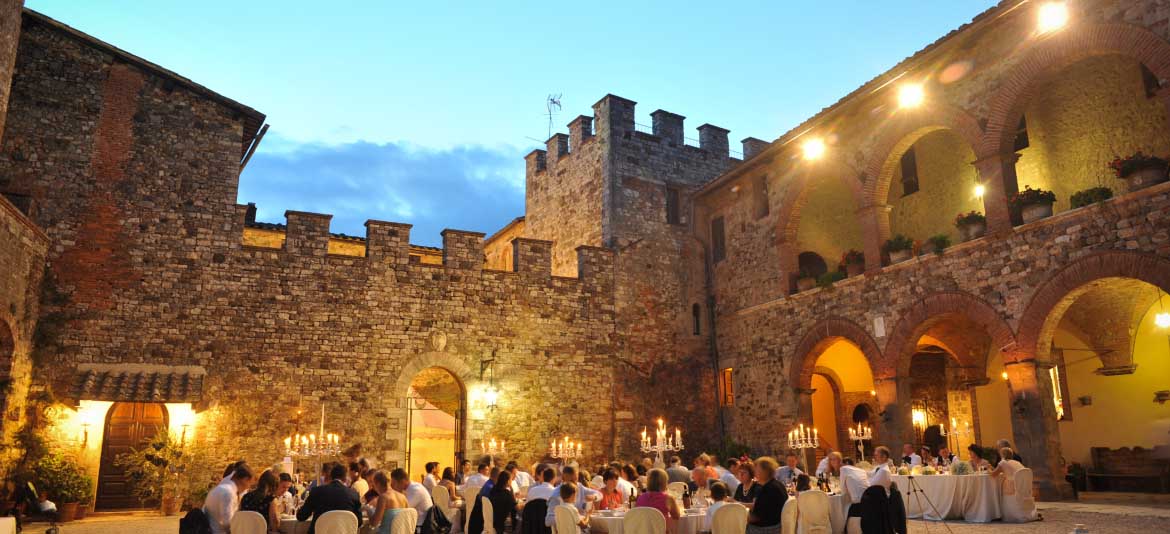 Venue Location:
The Castle is situated near Lucignano in the heart of the Tuscan countryside – same distance from Arezzo and from Sienna (about 30 min) and at about 1,5 hours south of Florence. It is situated on a hilltop surrounded by the farmhouses of the castle. The central part of the hamlet includes the castle, a Catholic church and an old school that has been turned into a farmhouse with some apartments. On the estate there are also 3 swimming pools, 2 fishing lakes, and a tennis court – all perfect places to enjoy the beauty of the Tuscan countryside.
Wedding Ceremony:
Catholic Wedding ceremonies can be celebrated in the Church that can hold 80 guests, while symbolic ceremonies are allowed in one of the halls of the Castle, in the court or in one of the gardens.   . If a civil wedding ceremony is preferred it can take place with the Mayor of Rapolano Terme or Lucignano in their respective "Comune.
Wedding Banquet & Reception:
The aperitif can follow in the restaurant garden while dinner generally takes place in the impressive court. Outdoors there is room for approx 200 guests. The arched hall on the first floor is also available for banquets in case of bad weather conditions and can hold approx 150 guestsFor your wedding reception and party you can choose between a buffet or a served dinner.
Music permission:
Late party options available upon request
The apartments near the castle can host approx 84 guests and it is necessary to book them to have dance music until late.
Accommodation:
The Castle Area is composed of:
Torri Alte + Torri Uliveto  that can host up to 18 persons without the use of the sofa bed
Giardino + Voliere that can host up to 24 persons without the use of the sofa bed
Casone + Casino that can host up to 42 persons without the use of the sofa bed
In total the Castle Area can host up to 84 persons without the use of the sofa bed and a total 129 with the use of the sofa bed.
The castle and its farmhouses together can sleep up to 200 people spread over 645 hectares, which makes this estate ideal for weddings and family reunions. Other groups of apartments are available in the farmhouses at a few more minutes away. There are also 3 swimming pools, 2 fishing lakes, and a tennis court – all perfect places to enjoy the solitude and beauty of the Tuscan countryside. This is an ideal location to forget about worries and enjoy a unique wedding day! Minimum stay: 3 nights in low season and 4 nights in high season. For longer stays they apply discounted rates
Open:
All year round