Amore T10: Romantic Vinyard and Residence for a Truly Tuscan Wedding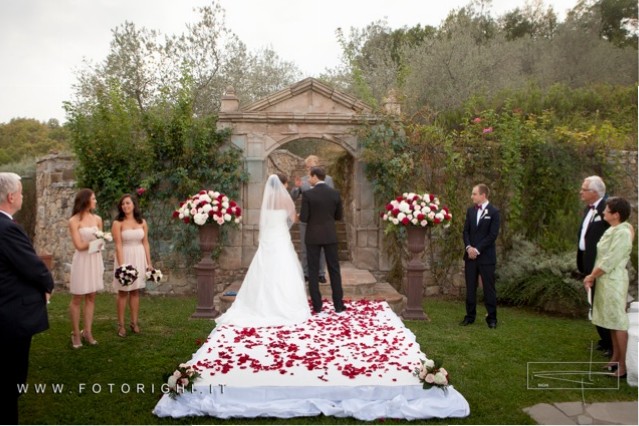 Description:
The Vinyard estate is situated on a pleasant hill in a panoramic position close to the little town of Greve in the heart of Chianti, an area steeped in history, art, culture and food & wine traditions. In the midst of a 50-acre estate planted with vineyards and olive groves, a group of 16th-century buildings has been recently renovated and converted into a delightful country residence for guests. The vineyard, the olive grove and the beautifully-tended garden merge to create a magnificent backdrop to the farmstead, the barn and the panoramic swimming pool overlooking the Chianti hills. The centre of the town is within walking distance.
Wedding Reception:
We recommend weddings up to 80 persons. The reception banquet and aperitif can be host in a variety of locations on the property all close together.  It can be host in the gardens or under a frame canopy structure that can accommodate up to 80 persons, in addition to various gazebos scattered around the garden and in the vicinity of the swimming pool.
Ceremonies:
Catholic Marriages can be celebrated on one of many churches close by and symbolic ceremonies can be host on site. Civil Ceremonies on request to Amore Weddings Planner.
Accommodation:
The venue must be rented in exclusive all 16 rooms for minimum 3 nights to host a wedding event. Three rooms are on B&B basis and the rest are apartments on self-catering basis in individual buildings.
Wedding Banquet:
We have excellent caterers who will host your wedding banquet.
Facilities:
Pool and Sauna