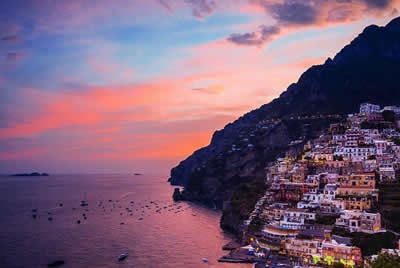 Picturesque Positano is created from a cluster of pretty pastel-shaded buildings packed tightly on a steep terraced hillside with the beach and azure sea below.
The road layout through this unique little town is quite amazing, just one steep one way street and a array of cobbled alleyways and steps.
Chic boutiques and an array of bars and cafes dot the town giving it a lively and romantic atmosphere only an Italian town like this can evoke.
Catholic & Civil Weddings in Positano
There are two main churches for Catholic ceremonies in Positano.
Firstly, the Collegiata of Santa Maria Assunta dating back to the thirteenth century which is located in the centre of Positano and the second is the Ocean Chapel of Il San Pietro a few minutes drive from Positano which can only accommodate small weddings.
Civil ceremonies can be held in the Town hall of Positano which stands on the highest part of town, on a very panoramic location that dominates the entire village.
Outdoor ceremonies can be arranged on the terrace of the town hall which can accommodate up to 60 pax.